Wheat straw plastic is the latest eco friendly material and is a smart, environmentally friendly alternative to plastic. It is a premium food grade material and is completely BPA free and has FDA approval. The impact of regular plastic on the environment is devastating, and wheat straw plastic is an awesome alternative.
It is made from a by-product of wheat production, namely wheat straw. It has many applications like wheat straw food containers, wheat straw drinking straws, wheat straw plastic plates, reusable coffee cups and many more.
What is Wheat Straw Plastic and is it Eco Friendly?
So what is wheat straw material? 

Wheat is a type of grain that is used to make flour, bread and wheat derived products like pasta. Straw is the byproduct that is left over after the wheat harvest, and by using it to make a plastic like substance, it is an ideal zero waste option.
Wheat straw contains cellulose and by breaking it down, a new product can be created. The process creates the opportunity to make different kinds of polymers. Natural polymers are found in our bodies, like hair and nails. Plastic is made from artificial polymers, but polymers created from wheat straw, are completely natural.
Straw, which is the by-product of the wheat harvest, contains lignin. Lignin is the part of the plant that keeps it standing up. So it is similar to a tree trunk, but for smaller plants. Lignin, when combined with sugar, can be turned into a bio-plastic.
First the lignin needs to be broken down to be able to make the plastic like material. Lignin is broken down by bacteria called Rhodococcus jostii, which is found in soil. The bacteria can produce acid, which easily breaks down the lignin without the use of any artificially produced products, which is far better for the environment.
Once the lignin has been broken down, it is mixed with sugar to form a plastic-like substance. This is then molded into forms like plates, cups and storage containers.
Wheat straw is also used to create a paper like substance that is used to make products. With the addition of certain chemicals, the straw is turned into a pulp, and the pulp is then pressed into a plate. It is strong, non-allergenic and does not contain any gluten.
This process is not limited to wheat straw only, other agricultural waste products like grass, leaves and even wood, can also be used, thereby producing an all natural plastic.
Perks and Benefits of Wheat Straw Plastic
It is entirely biodegradable. It will take 3 to 6 months to turn to compost in your home compost and only 1 to 2 months in a local municipal compost facility.
Wheat straw is renewable and sustainable. As these products are completely natural, they can decompose and be used as fertilizer.
Non-allergenic.
Gluten free.
Easy to clean, sturdy and strong.
Microwave and freezer safe.
Without odor and will not go moldy.
They can also be turned back into pulp by melting them and creating different products again and again.
Less energy is required to produce the wheat straw plastic-like substance. A lot of energy is used to produce artificial plastic and the emission of carbon dioxide gasses are very high. Because wheat straw is natural, it requires much less energy to produce pulp.
The natural fibers make the material sturdy enough without requiring the addition of toxins like oil.
Additional source of income for the wheat farmers as they can sell the byproducts for a reasonable price.
Waste disposal is reduced and no need to burn the straw which further adds to air pollution.
It can handle hot liquids up to 100°Celsius / 220°Farenheit
Conform to US food and Drug Administration guidelines.
Wheat straw can be used to create paper, so saving our forests as well. Disposable paper products, like plates and cups, can be replaced by the wheat straw substance. No need to cut down our forests to get the materials needed, but use the agricultural waste product. Greenware plant fiber blend containers are made with a blend of wheat straw and wood fiber.
What is the Impact of Wheat Straw Plastic on the Environment?
Wheat straw is a byproduct of growing edible grains, so there is no additional farming or harvesting procedures required. It is biodegradable, so will take less time to break down naturally.
Through the process of photosynthesis while growing wheat, it would extract more carbon dioxide (CO2) from the air, than it would produce. Production of bio plastic consumes less energy and gives off less CO2 emissions, than the production of synthetic plastic which is derived from petroleum.
Traditionally the straw was burnt after the wheat harvest, which would give off more CO2 gases, so this is avoided. Although the burning of wheat straw has been banned in the UK, and it is frowned upon by many, the fields are still burnt in many parts of the world like South America. Bioplastic is beneficial for our planet and global warming, thereby reducing the carbon footprint.
Wheat straw plastic is very versatile and can be used for many applications. Because of the heat resistance of up to 100° Celsius / 220° Fahrenheit, it can be used for reusable travel mugs. It is a great way of reducing single use plastics.
So let's have a look what is wheat straw plastic used for and some of the products, ranging from wheat straw drinking straws, to wheat straw food containers, wheat straw plastic plates and many more.
BRIGENIUS Bento Box for Adults and Kids
The lunch boxes are made from natural wheat straw and is BPA Free. The eco friendly bento box has five compartments, comes with a fork and spoon and is leak proof.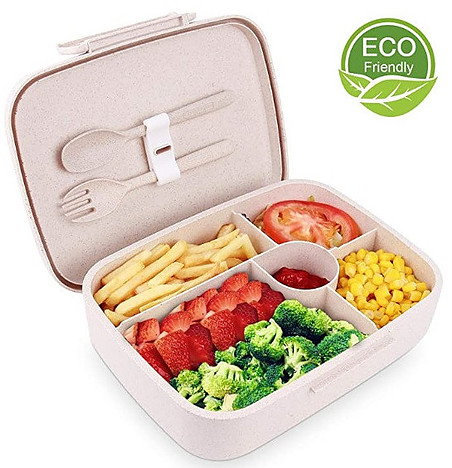 Double walls with 5 compartments keep meals and snacks fresh and free of a mess.
The lunch box consists of 4 large compartments and 1 sauce compartment in the middle, perfect for kids and adults.
Weighs about 1.34 pounds and measures 8.7 x 7.2 x 2.7 inches.
A fork and spoon, made of the same material, are included and has convenient storage within the container.
It is eco friendly and free of BPA's, using the latest natural environment friendly material namely wheat husks fiber.
Healthy for kids and BPA Free,
Microwave safe up to 3 minutes.
Drop-resistant durability.
Only pack sauces and liquids in the smallest compartment.
Dishwasher safe although recommended washing the lid by hand to preserve the leak proof seal.
Easier to clean, no odor, food-grade safe and eco friendly materials and will not get moldy.
The whole lunch box is designed to be leak-proof, with the small compartment seal ring for packing liquids or sauces alone, while the seal ring around the side keeps the box from leaking.
100% risk free purchase with a replacement warranty. So, if you ever encounter any issues with your Bento Lunch Box, simply contact us for a free replacement or refund.
Wheat Straw Plastic Plates – Reusable Plate Set
Reusable wheat straw plastic plates are eco friendly and an ideal alternative to traditional plastic plates. Perfect for toddlers and kids and adults alike. Use it at home or on the go for picnics and camping. Dishwasher & Microwave Safe – Perfect for Dinner Dishes – Healthy for Kids Children Toddler & Adult, BPA Free & Eco-Friendly (Large)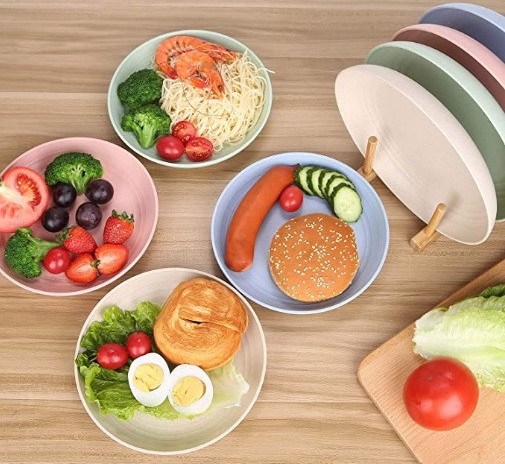 Set consists of four plates, each in a different color, green, blue, pink and beige.
Available in different sizes, 7.28 inches, 7.8 inches, 8.8 inches and 10 inch diameter.
Made of natural wheat straw fiber, starch, and food-safe premium PP material.
Extremely safe for kids and adults because, wheat straw plates are non-toxic and 100% BPA free.
Designed with space-saving style and light to hold, smooth round edges.
Unbreakable wheat straw plates are made with durable and light material that protects the plate when dropped.
Dishwasher and microwave safe.
They are easy to use, clean and store.
The temperature resistant up to 248 degrees Fahrenheit (120℃).
Satisfaction guarantee for the wheat straw food containers – if you are not 100% satisfied, you can contact the manufacturer and they will help you return or exchange the item.
Reusable Wheat Straw Plastic Bowls to Match the Plates
To compliment the plates, matching bowls are also available and comes in a set of four and two different sizes.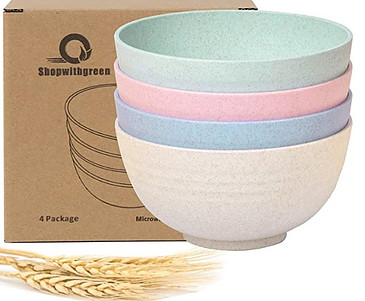 Eco friendly wheat material which is non-toxic, odorless and free of BPA's and chemicals.
Made of natural organic wheat straw fiber.
No plastics and harmful chemical materials.
Lightweight, durable and unbreakable, even if dropped.
Space saving style and smooth round edges.
Different colors of bowls make life more pleasant.
Dishwasher safe bowls are very easy to clean, wash them with soap and hot water or place them into your dishwasher.
Microwave safe and they work great in ovens without getting too hot.
Different uses and they are deep enough for cereal, salad, fruit, rice and noodle without splashed out.
Great for parties, picnic, camping, and everyday meals at home, school, office, outdoor or traveling.
A good choice for business promotional gifts and Christmas gifts!
100% Satisfactory warranty with a 30 day 100% money back warranty. If you are not completely satisfied with your 24 oz bowls, contact customer service for a full refund or free replacement, so you can buy the wheat straw food containers with confidence.
Reusable Wheat Straw Cups
These large tumblers will match your reusable wheat straw plastic plates and bowls and are ideal for everyday use at home or in the office.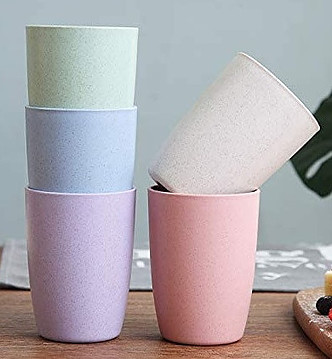 Take them when you are out and about and use them for picnics, parties in the garden and on camping trips.
Made from natural wheat straw, starch and food grade polypropylene.
Eco friendly and made from renewable and reclaimed materials.
14 OZ tumblers for kids, teenagers and adults.
Dishwasher Safe
Durable and break and chip resistant, so safe for babies and toddlers.
Has a smooth rim and designed for comfort and aesthetics.
No heavy metals and free of BPA's.
Microwave, fridge and freezer safe.
Biodegradable material, which will self decompose in the soil.
Available in different sizes.
Use it to get your takeaway coffee or tea and say no to disposable plastics.
Points to remember about Wheat Straw Plastic
Keep away from fire and don't expose to sunlight for extended periods of time.
Although it can be used in the microwave, do not heat food in there for longer than 3 minutes as the heat of the actual food could damage the container.
Do not put the lid or cutlery in the microwave.
Open the sealing plug when heating in the microwave.
Dishwasher safe but recommended to hand wash the lids to keep the seal intact.